Alternative Medicine to Tiger Parts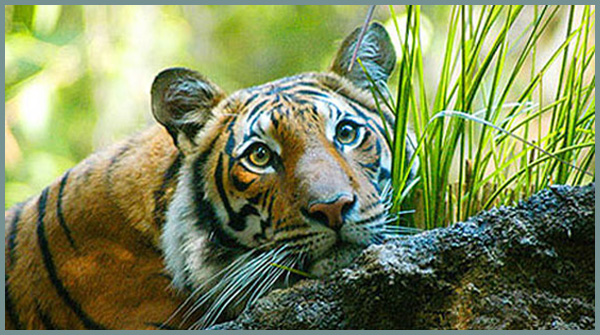 There are close to 11,000 natural, traditional Chinese medicines that can be used to treat ailments and disease. Because the tiger is now in serious danger of becoming extinct, alternatives must be found and readily accepted by those who wish to remain devoted to the philosophy of traditional Chinese medicine.
NOTE: The Alternatives suggested below are only suggestions as found in common literature and should not be construed as medical advice. For medical advice consult your traditional or naturopathic physician .
Tiger Claws: used as a sedative for insomnia – Alternative: acupuncture is often used for the treatment of insomnia caused by depression and related emotional problems. Herbs regularly used in treatment include: coptis root, fleece-flower stem, poria, and wild jujube seed.
Tiger Teeth: used to treat fever – Alternative: herbs that can be used include: anemarrhena rhizome and bamboo leaves.
Tiger Fat: used to treat leprosy and rheumatism – Alternative: herbs that used in treatment include: Corktree bark, achyranthus root and coix lachryma joba.
Tiger Nose Leather: used to treat superficial wounds such as bites – Alternative: herbs that can be used in treatment include: astragalus root, dipsacus root or teasel root.
Tiger Bone: used to treat rheumatism, arthritis, general weakness, headaches, stiffness or paralysis primarily in lower back and legs and dysentery – Alternative: herbs used to treat rheumatism and weakness include: Corktree bark, achyranthus root, ledebouriella root and coix lachryma joba. Treatments of headaches: spring onion tea, wild ginger or wild angelica, ginseng, poria, and Chinese date or schizonepeta. Acupuncture is also often effective in alleviating migraine headaches. For dysentery: anemone, white peony root, skullcap root and golden thread have been used.
Tiger Eyeballs: used to treat epilepsy and malaria – Alternative: for epilepsy, herbs such as sweet flag root, Chinese senegar root, bamboo shavings or bamboo juice from young shoots can be used. For malaria, sweet wormwood and artemesia are suggested.
Tiger Tail: used to treat skin diseases – Alternative: acupuncture has been used in treating skin disorders.
Tiger Bile: used to treat convulsions/meningitis in children – Alternative: an herbal mixture named "White Tiger Decoction," made of gypsum and rice.
Tiger Whiskers: used to treat toothache – Alternative: herb treatments include: gypsum, acupuncture, ginseng or chrysanthemum flowers.
Tiger Brain: used to treat laziness and pimples – Alternative: for pimple treatment: cleanse skin with a slice of fresh watermelon. Also herbal tea made of honeysuckle, chrysanthemum of dandelion. For more severe cases skullcap, rhubarb, gypsum and rehmannia are suggested.
Tiger Penis: used in love potions, aphrodisiac; this is a myth. The tiger is seen as a powerful entity in ancient tradition and culture, but there is no pharmacological evidence to suggest any tiger part is an aphrodisiac.
Dung or feces: used to treat boils, hemorrhoids and alcoholism – Alternative: for boils: treat as a skin disorder. For hemorrhoids: angelica, rhubarb, dandelion, magnolia bark and kapok flower are considered. For alcoholism green tea, kudzu vine or watermelon is suggested to detoxify the blood.